Request Our Services
If you are interested in requesting our services to participate in any events you can submit your request here.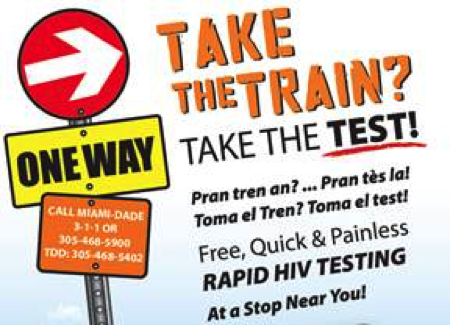 Community Services
Educational Sessions
Our program aims to reach people who are at increased risk of becoming infected with HIV or if already infected of transmitting the virus to others. The program activities include community outreach, risk reduction counseling, individual and group level interventions, health communication/public information seminars and community level interventions.
HIV/STD Testing
Our TestMiami Mobile Unit serves the Miami-Dade County community by providing FREE preventative education and testing such as HIV testing and Chlamydia, Gonorrhea & Syphilis screenings.
Take Control
was developed in an effort to bring HIV testing outside medical setting to racial/ethnic minorities who report increased risk for HIV but do not have access to medical care.
Goals of Take Control:
to increase access to early diagnosis of HIV among high-risk racial and ethnic minorities,
to identify potential non-clinical venues for recruiting persons within the target testing populations, and
to link to care the positive individuals and lost to care individuals identified at "Take Control" events
Take the TRAIN?…Take the TEST! Is a community mobilization event that provides HIV/STD screenings and outreach information in areas of close proximity to targeted Metrorail stations with high HIV/AIDS prevalence. Collaborative partners use mobile units to provide HIV/STD prevention education, rapid testing and any necessary referrals to all who stopped by the testing locations.
Healthy Teens Expo are events developed for students of Miami Dade County Public Schools (MDCPS) to access comprehensive health care information, including educational rallies/testimonies, and access to HIV/STD counseling/testing/linkage to care on school grounds. The objective is to create opportunities for students to access on-site (school grounds) health care information and HIV/STD counseling and testing services.
PCSI on Wheels is a program collaboration and service integration model that implements and delivers holistic, evidence-based prevention services and risk reduction messages to appropriate populations outside the clinical setting. This model will facilitate joint planning and sharing or coordination of resources in an effort to provide more holistic prevention services and risk reduction messages to individuals at risk for HIV/STD/TB/Hepatitis.
For a list of upcoming events where we will be providing FREE HIV & STD testing please see our Events Calendar.
National HIV/AIDS Awareness Days
National Black HIV/AIDS Awareness Day:

February 7

National Women and Girls HIV/AIDS Awareness Day:

March 10

National Native HIV/AIDS Awareness Day:

March 20

National Youth HIV & AIDS Awareness Day:

April 10

National Transgender HIV Testing Day:

April 18

HIV Vaccine Awareness Day:

May 18

National Asian & Pacific Islander HIV/AIDS Awareness Day:

May 19

Hepatitis Testing Day:

May 19

HIV Long-Term Survivors Day:

June 5

National Caribbean HIV/AIDS Awareness Day:

June 8

National HIV Testing Day:

June 27

National HIV/AIDS and Aging Awareness Day:

September 18

National Gay Men's HIV/AIDS Awareness Day:

September 27

National Latinx AIDS Awareness Day:

October 15

World AIDS Day:

December 1
Get more information on HIV/AIDS Awareness Days.
Community Initiatives in Miami-Dade County
"Ending the HIV Epidemic: A Plan for America (EHE)" is a bold plan that aims to end the HIV epidemic in the United States by 2030. The new initiative seeks to reduce the number of new HIV infections by 75 percent within five years, and then by at least 90 percent within 10 years. Due to the high incidence of HIV, Miami-Dade County was chosen as one of the 57 jurisdictions to implement this initiative. Read more about Miami-Dade County's infographic, Miami-Dade County's situational analysis, and the EHE Jurisdictional Plan with the strategies and activities to be implemented in Miami-Dade County.
The Integrated HIV Prevention and Care Plan is a vehicle to identify HIV prevention and care needs, existing resources, barriers and gaps within Miami-Dade County and outlines the strategies to address them. View the Integrated HIV Prevention and Care Plan.
"Getting to Zero" HIV/AIDS Task Force - The Miami-Dade County "Getting to Zero" HIV/AIDS initiative established a set of recommendations focusing on prevention, treatment, and systems change. The process enhanced services, built partnerships, and established collaborations. To save the greatest number of lives possible and prevent further HIV transmission, we must know our local epidemic and focus our efforts on key populations at greater risk. To view the Final Task Force report click here. View the update on the "Getting to Zero" recommendations.
The Florida Black HIV/AIDS Coalition is a collaborative of providers serving the Black community.  The purpose of the meetings are to inform, network, train, and coordinate actions to reduce new HIV infections; increase access to care, improve health outcomes; reduce HIV related disparities; and plan activities to achieve a more coordinated response to the HIV epidemic in Miami-Dade County.  For more information, please contact Praveena Saxena at (786) 792-5312 or email Praveena.Saxena@flhealth.gov.
The Faith Responds to AIDS initiative empowers and mobilizes churches and other faith-based organizations to fight against HIV/AIDS. Our program works closely with faith leaders to increase awareness of HIV and AIDS in the faith community, reduce the stigma associated with HIV and AIDS within the church and promote the importance of HIV testing and knowing your HIV status.
The Sistas Organizing to Survive (SOS) is an initiative mobilizing black women in the fight against HIV/AIDS by encouraging women to get tested where they live, work, play and worship.
The Hispanic Initiative (Iniciativa Hispana) was developed to reduce the incidence of HIV/AIDS within the Hispanic community living in Miami-Dade County through business, community outreach, and prevention education. The objective of the Hispanic Initiative is to plan, develop and implement innovative strategies on HIV/AIDS education and prevention through culturally sensitive and indigenous approaches, meeting their needs through service provider's referrals, community referrals, community building and information sharing and dissemination. For more information, please contact Alex Arevalo at 305-643-7420 option 3 or email Luis.Ferrer@flhealth.gov.
Man UP initiative seeks to mobilize men to eliminate their risk of acquiring or transmitting HIV/AIDS. The goal is to stimulate the implementation of community action plans aimed at preventing the further spread of HIV/AIDS among men and their partners.
The Miami Collaborative MSM Workgroup is for MSM and men's health coordinators around the state to join forces for optimal uses of resources. The MSM Collaborative serves as the link between community members in the Gay Men's Workgroup, Transgender Workgroup, and other advisory councils as necessary. The MSM Collaborative specifically works with community partners to enhance stakeholder engagement. For more information, please contact Luigi Ferrer 305-643-7420 option 3 or email Luis.Ferrer@flhealth.gov.
Business Responds to AIDS (BRTA) initiative helps businesses respond to HIV/AIDS in the workplace and the community.
Becoming a BRTA partner is easy! Please complete the engagement form below. Following submission, the BRTA Coordinator in Miami-Dade will contact you to provide you with information about your partnership commitment. Some of the benefits of BRTA a partnership include:
Visibility: The program provides a national platform for businesses to showcase their efforts in addressing HIV in the workplace.
Productivity: By retaining employees, businesses increase productivity by reducing direct costs associated with extended absence due to illness, turnover, recruitment, separation, and lost institutional knowledge.
Profitability: By demonstrating a commitment in the fight against HIV, businesses garner respect and brand loyalty that can generate financial returns, align to stakeholder needs, and attract positive consumer responses.
Accessibility: BRTA provides access to accurate, timely, and relevant HIV information, resources and peer-based technical assistance.
Connectivity: Initiative facilitates access to a diverse network of like-minded businesses and stakeholders.
Miami-Dade Business Responds to AIDS Participant Agreement (BRTA)
For additional information regarding BRTA, please visit https://www.cdc.gov/hiv/workplace/.